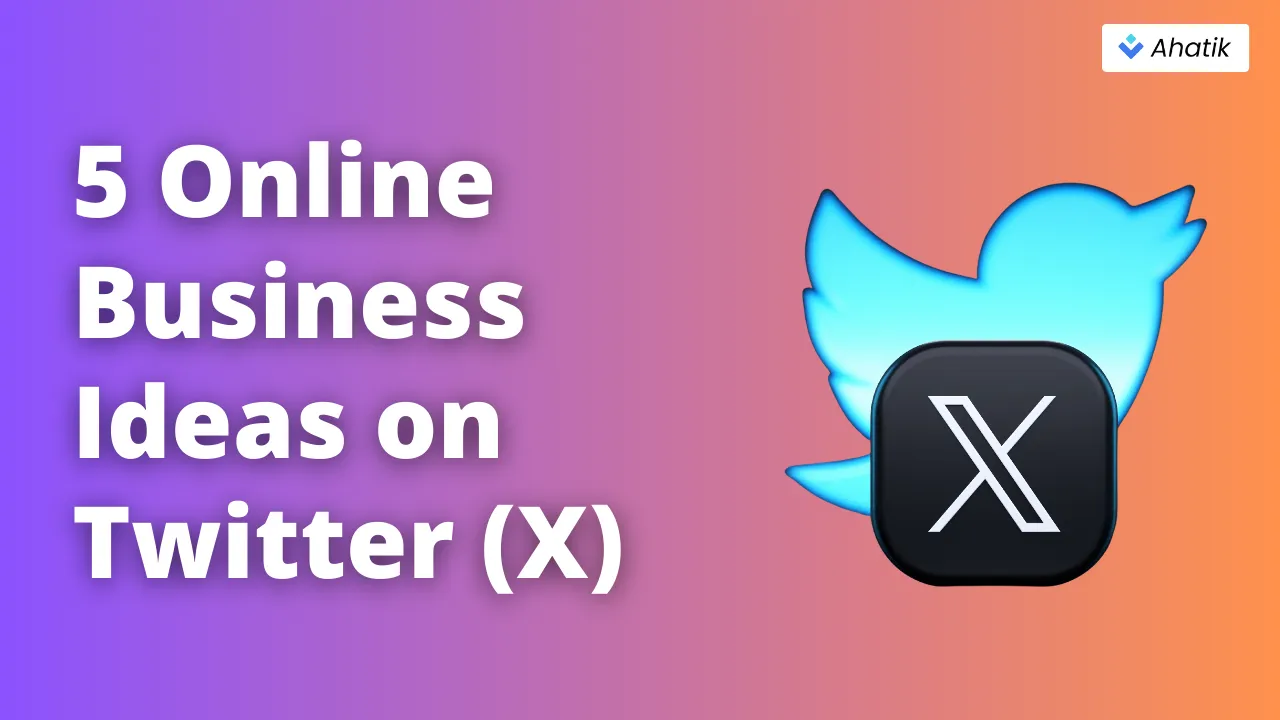 Here are 5 online business ideas on Twitter (or what has now changed its name to X) that you can try. Online business ideas on Twitter can be a side income field for those of us who are in need of extra money. Indeed, many people need extra money because the income from the main job is still lacking.
The advantage of selling online is that it won't interfere with your main job because you can manage it from anywhere. In addition, Twitter is an application that has many users, so it is possible that our business will sell well.
Table of Contents:
List of Online Business Ideas on Twitter or X
How to Sell Easily on Twitter (X)
BONUS: Ahatik TikTok Downloader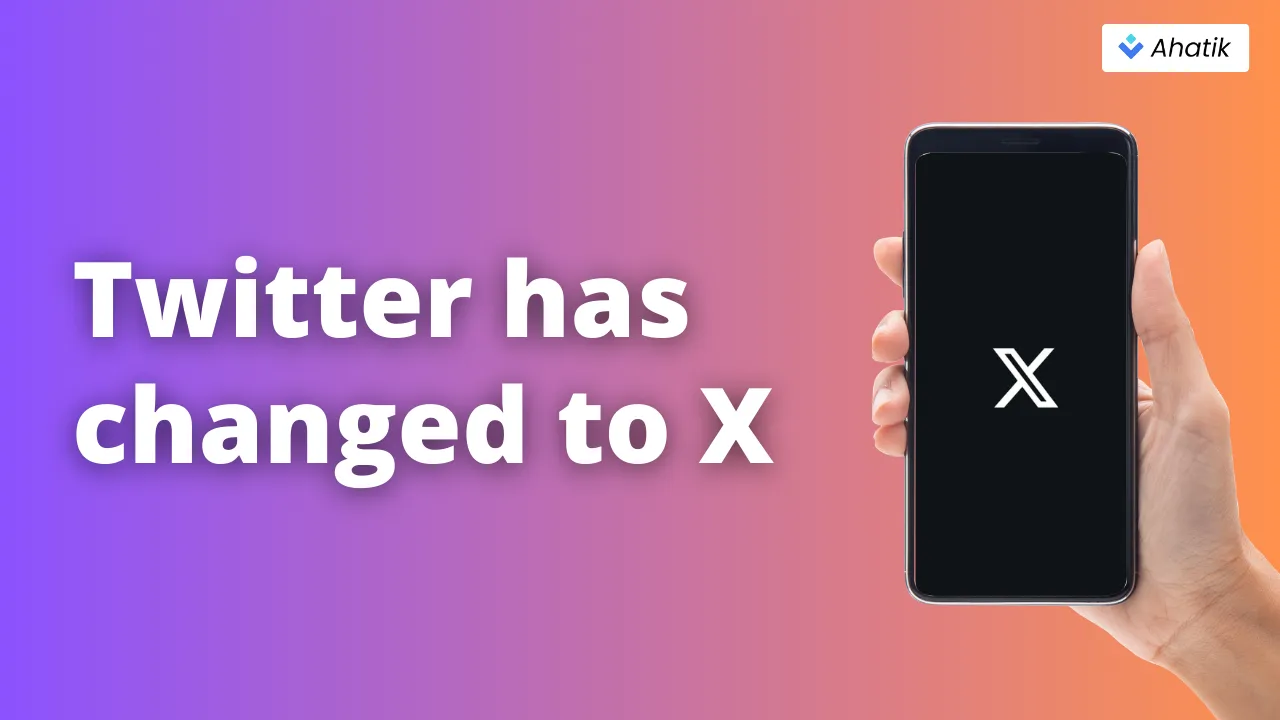 For beginners who want to enter the business world, you can start a small business first and promote it on Twitter (X). In this digital age, online businesses are increasingly popular. Here are some online selling business ideas that are easy to sell.
1. Dropship
Becoming a dropshiper is an interesting idea because it requires no capital and no need to stock goods. The job of a dropshiper is to create an e-commerce site to promote selling products.
We only need to cooperate with the supplier of the goods and then change the brand name before promoting it. However, before changing the product brand name, make sure we and the supplier have made an agreement.
The dropship business only requires an internet package and a laptop so that it can save costs. We also don't need to take care of the goods and rent a place because the goods have been provided by the supplier.
Later, if there is someone who is interested in the product, they can make a purchase to the dropshiper and then we contact the supplier. The supplier will send the item to the buyer. Then where can we get the benefits? The profit is from the cost of promoting the goods. After the buyer pays for the product, we can deduct the fee and then send it to the supplier.
2. Online Food Business
The next online business idea on Twitter is selling food online. Food is a necessity for all humans as a source of energy. We can open an online food business and work with Gojek or Grab for food delivery. There are many foods that we can make into business ideas such as cakes or traditional foods. This idea is perfect for beginner businessmen because we can promote it via Twitter. Of course, we need to create a special account to promote food.
For example, if we open a banana nugget business with various flavours, there will be many buyers. As we know, Indonesians love sweet foods and banana nuggets are one of them. The process is also very simple, similar to making fried bananas. You can also add toppings to make it more delicious, such as green tea, chocolate, cheese, taro, and other toppings that people like.
3. Become a Part-Time Worker
Becoming a part-time worker is a great idea to earn extra income. For example, if you have a talent for graphic design, you can open a graphic design service and promote it on Twitter. As a portfolio, you can upload your designs to Twitter. Don't hesitate to promote the service to other users so that more people will recognise the business.
We can also sell social media accounts such as Facebook, TikTok, YouTube, and even email accounts to those who don't want to bother creating them. These accounts are very marketable considering that many people find it difficult to create social media accounts. In addition, we can also share accounts for other platforms that allow users to share their account into several devices. Some sharing accounts that are commonly sold are Netflix, Spotify, and Canva.
5. Selling Recharges, Internet Packages, and App Subscriptions
The last is to open a service selling pulses and internet packages. In order to increase income, we can also open an online streaming application subscription service because now the demand is starting to increase. We can promote them via Twitter so that the business is increasingly known to people. We just need to promote it to people who need it. Nowadays, people prefer to look for easy things like buying credit or internet packages online.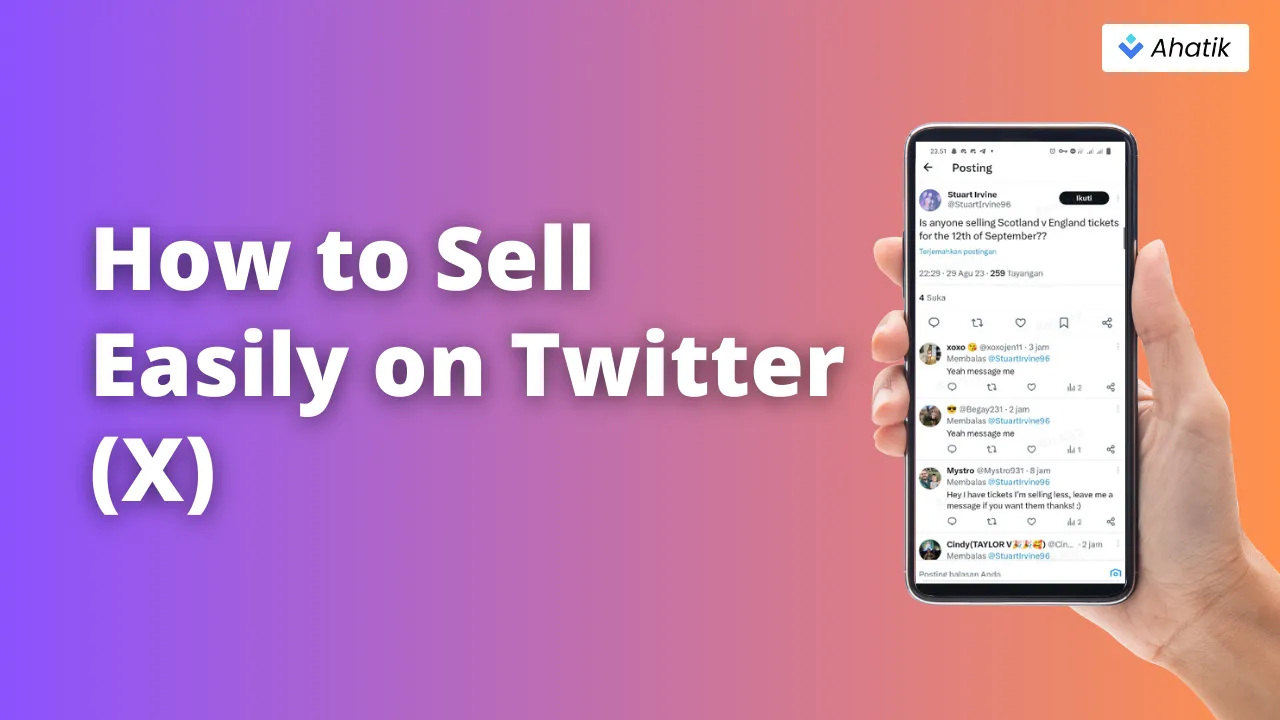 After knowing what are the online business ideas on Twitter, the next thing is how to sell on Twitter to get many customers. Twitter has many features that will help users. Here are tips for selling on Twitter.
1. Finding the Target Market
Running any business, the most important part is to find the target market. For example, if we sell contemporary food and drinks, the target market is teenagers and early adults.
We can find the market by utilising the hastag feature that matches our business idea. For example, if we want to sell perfume, then search for the hastags "daily perfume", "OOTD perfume," or "cheap perfume." Through these hastags, we can identify approximately who needs the perfume product.
2. Maintaining Interaction with Users
The next tip is to maintain interaction when there are users who ask about our products. You can do this by replying to messages or tweets from customers, even if you can get involved in threads to share your own tweets.
Maintaining interaction with potential customers aims to introduce products and can help our account to get additional followers. For regular content ideas, you can upload memes or jokes that match the product and trending topics.
3. Building Good Branding
Online business ideas on Twitter will be perfect if we build a good branding for our business. What kind of businessperson do we want to be known as, funny, serious, or something else? By building this personality, branding will be formed over time.
Consumers will know us as a businessman who likes to be funny, for example. So think carefully that we want to be seen as a businessman who is how in the eyes of consumers. In addition, make sure that the branding we build is in accordance with our target market.
4. Utilising the Advertising Feature
The next step is to utilise the advertising feature on Twitter (X). Twitter provides paid advertising features that will make it easier for us to reach more users.
Using Twitter Ads or X Ads not only increases users but also gets new consumers, increases the number of followers, and businesses will be better known by the wider community.
5. Following Influencers
Besides using the Twitter Ads feature, the next step is to follow influencers. The goal is to connect with consumers who match the target market. For example, if we sell food, we can follow food vlogger accounts. It is not impossible that our account does not attract the attention of consumers and even the influencer. If the business is growing, we can work with influencers to market the product.
Therefore, don't get tired of promoting your products especially if the business is still new. It will take time, but it never hurts to keep trying. Over time, our business will be recognised by many people. Online business ideas on Twitter can be an additional income if the main income does not cover daily expenses. Look for a business that does not interfere with your main job so that your focus is not split.
BONUS: Ahatik TikTok Downloader
Ahatik TikTok Downloader is a webtool that helps us to download TikTok videos without watermark. Thus, we can comfortably watch TikTok videos offline or rework them into video footage. Keep in mind, however, that downloading someone's content without permission and without giving credit is unethical and can even be charged under applicable copyright laws. Therefore, make sure that you are downloading videos for your own personal use.
You May Also Read:
You must try 5 online business ideas in Threads, it's easy!
4 Benefits of Affiliate Business 2023
What is Affiliate Marketing? and How to Become an Affiliate 2023?
⚠️Disclaimer:
Ahatik.com does not work with any of the platform brands mentioned above. This article is also intended for informational purposes only and is not a guaranteed recommendation. Ahatik.com is a webtool service to download TikTok and YouTube videos without watermarks and convert TikTok and YouTube videos into MP3 for offline listening for personal use and fair use. Ahatik.com is also not responsible for any misuse of Ahatik's services. Downloading other people's works without their permission may violate copyright laws. Always check for the latest developments in applicable copyright laws.
Home
/
5 Online Business Ideas on Twitter and Promotion Tips, Guaranteed to Sell - Ahatik.com